Scuba diving is an exciting sport that allows you to see the beauty of the underwater world. If you love the ocean and adventure, then scuba diving is a perfect sport for you. There is a big chance that you'll quickly become addicted to scuba dive. Whether it's from the sensation of being able to breathe underwater, the thrill of discovering new marine life, or escaping from all the stresses of reality for a while. You name it! There are just too many good reasons why you want to scuba dive.
Now, the first step to becoming a DIVER is simply by taking a dive certification. The Open Water Diver course takes around 3 to 4 days to complete and consists of learning all the relevant dive theory, pool session, and open water dives. This course is designed to develop your knowledge of essential dive skills and important safety features.
Some people like to take the theoretical part of the course online. This way you can learn at your own pace and at a time that is convenient for you; but you can also finish the theoretical part on-site. During this first phase of your scuba lessons, you'll learn the basic principles of scuba diving such as the diving procedures, underwater signals, what to consider when making a dive plan, and many more.
Next, there is a pool session or confined water session where you will learn all about the gear you need and practice all the necessary dive skills.
And then comes the best part; to complete your journey, you will do four ocean dives with your instructor where you will demonstrate the skills you learned in the pool while enjoying what the local environment has to offer. On these dives, you'll get to explore the underwater world and get hooked on its majesty. Be ready to get thrilled on the joy of being able to dive down and see with your own eyes what our planet is all about 😊
"Ok, now I know all of the good things about scuba diving, but I still can dive without being certified, right?"
Well, it is true that you still can dive without certification, but I need to tell you two main reasons why you need to take your scuba diving certification. So here they are
1. SAFETY
When you are doing a Discovery Dive, they will teach you some very basic skills like how to clear your mask, how to clear your regulator and sometimes also how to control your buoyancy. Is it enough? Well, I hate to tell you but the answer is NO. It's important to recognize the dangers and risks involved with scuba diving, and to be all aware so you know what to do if any other problems arise. During your course, you will learn many more skills and knowledge about the ocean and scuba diving that will help you handle all the problems. In other words, you are going to be a much more independent diver once you finish the course. You don't want your instructor to hold you all the time whenever you dive, right?
2. IT'S GOING TO SAVE YOU A LOT OF MONEY
Wait, what? Don't get me wrong but this is very true. A discovery dive for uncertified diver is much more expensive than the price of fun dive for certified diver; it's almost twice the price! Imagine once you try to scuba and then you become addicted and you want to dive a lot, how much money you can save if you are already certified? If you think that you won't dive as much, believe me, you will change your mind once you see the beauty of the underwater world. After all, what you need to keep in mind is that you will take it once and it's valid for the rest of your life; everywhere around the world.
This open water certification course is really just the beginning of your scuba diving journey. There is indeed so much more that the ocean wants to offer; if you want to go deeper, you can take the Advanced Course that allows you to go to a maximum depth of 30m. You can also do wreck dive, night dive and many more.
So now you've heard about why you should take your scuba diving certification course, what are you waiting for? The next step is of course to contact us and we would be more than happy to organize the course for you!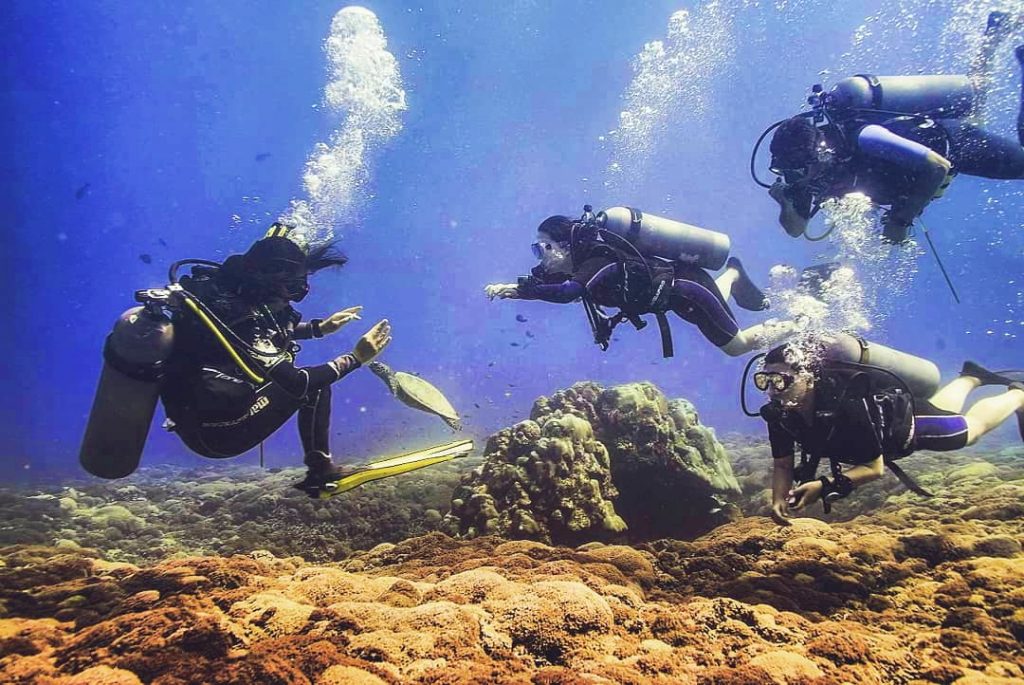 By @kiranaarf