Okay, so you've heard about SCUBA diving in Penida Island, you've seen pictures of the majestic Manta Rays and the friendly but mysterious Mola-Mola, and obviously you've read a lot of articles and news about the underwater beauty of this island. These past few years the Penida Island indeed had transform itself to be one of the best tourist attractions specifically for SCUBA divers.
The problem is, as a diver you realize how dangerous it could be for even an experienced one to dive in an unfamiliar place such as Penida Island. So, for now you probably been wondering which dive center is the best for you, every diver knows that a good dive center is one that can both provide you comforts and most of all safety.
Well, worry not, Octopus Dive Penida is definitely what you looking for. Not only we could provide you a great diving experience in Penida Island, but here we value your safety aboves all. Not only we have our own highly experienced dive master with almost countless diving hours at every available dive sites arround Penida Island, we too have varieties of package trip such us dive trip, snorkeling trip and if you want to take a breather and visit some of the famous places on this island, we also provide a land trip led by our own local staff that can assist you with information about the places you visited.
Great, you've made up your mind and decide to join on an adventure with us, but there's one problem remaining, as there are a lot of information you can look up on the internet about how to get to the island, you still don't know where to find us!? How to get to our office!?
First of all, relax as we're here to help you on that.
How can I get there?
Visitors that came to Penida Island, usually start their journey from Denpasar Bali. There are a few number of places that offer transportation to Penida Island, but we recommend that you chose to depart from Sanur by a fast boat. No need to be anxious about the ticket, there are lots of fast boat companies that provide a crossing service from Sanur to Penida Island, but still it's best you booked the ticket before to smoothen your journey to Penida Island.
One thing you have to remember before you get to your designated fast boat is not to wear long pants and shoes. Why? It's easy, because you're going to get wet from the knee down, but who wears long pants and sneakers on Bali anyway.
It takes about 45 minutes to 60 minutes before the fast boat reach Penida Island, meanwhile you can chat with your friends or simply put on your earphone and listen to your favorite music as the trip might bores you.
There are several options depending on the fast boat company you chose to use that decides where your fast boat will arrive later. The most common place are Banjar Nyuh harbour and Toya Pakeh harbour, there's also Buyuk harbour but mostly at those first two places. Toya Pakeh and Banjar Nyuh harbour are very close by to one another, it doesn't really matter which because whichever one you arrive at, you will have to follow the same road to reach Octopus Dive office, obviously for your best diving adventure.
Voila, you're finally here on Penida Island! You're excited? Yes, we too are very excited to await your arrival here, but once again relax yourself, don't forget to woosah because the moment your feet touch the ground, people are going to surround you like you're some kind of a rockstar. No, they're not after your autograph nor photos, those people mostly are going to offer transportation service for you. This is critical, without transportation you basically can't go anywhere. There is no public transportation here, either your rent a motorbike or a car for your transport, but no need to panic because mostly they all came with a reasonable price, and you don't have to fill no registration either. You basically just negotiate the price on the spot and after a mutual agreement, the transportation is yours.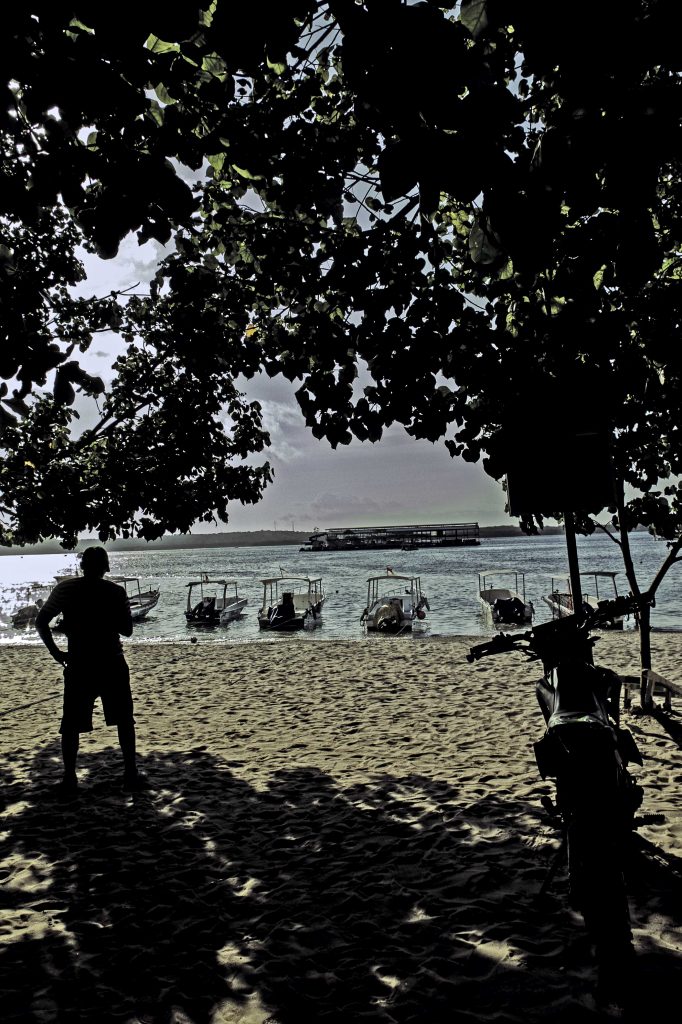 Now let's cut to the chase, to get to Octopus Dive office is fairly easy but once again we recommend you to rent either a motorbike or a car. How so? Well, probably because the island's economies and infrastructures are still at the stage of growing, and might not felt very accommodating for some people. There's only one main road on this island, to reach one place from another is usually you either turn right or turn left, but a little warning because the amount of road you have to travel to visit those famous places you've been seeing on social media are separated pretty far from one another, and of course from either Toya Pakeh or Banjar Nyuh harbour to our office could also prove to be far if you have no means of transportation.
As the map shows, you only need to turn left once from the harbour's exit to Octopus Dive office, if you arrive from Banjar Nyuh, you will see a gas station nearby right on the place where you turn left, but if you arrive from Toya Pakeh then you will notice the gas station probably one or two minutes after you exit the harbour (also turn left). From there, you need only to go straight and follow the main road until you reach Ped-Buyuk street, and going straight still until you saw our office on the center of a y-junction.
You can see our sign very clearly on the side of the road, if you arrive from Toya Pakeh or Banjar Nyuh you will see our front office very clearly from that direction. No need to be shy, our staff will greet you and offer you all the services we provide. Not only that, we too are very flexible on our scheduling, many times clients asked for arranged services that suit their needs, we will do our best to provide those services and if you're not sold yet, you're free to ask anything to our staff or if it's related to diving then to our dive master, and if you still have doubts you could also freely check our equipment to decide whether they met your standards or not.
What makes Octopus Dive special?
There are lots of dive centers in Penida Island, more than twenty and truth to be told we're all competing against each other, but aside from our rivalry, we basically are a one big happy SCUBA diving family, always ready to help each other and assist those in needs. So, what's so special about Octopus Dive?
Well, here is the trickiest part. Many dive centers including Octopus Dive are all well equipped, most of us also offer a good number of highly experienced dive masters, but one of the many things we always be proud of is the fact that we have zero accident. Here in Octopus Dive your safety is what we value the most sometimes at the expense of your enjoyment and excitement.
So, what are you waiting for? Grab your calendar and make some rooms on your tight schedule, contact us and book in advance so you could manage a better preparation, visit our office, ask everything you want to know to our staff, tour around our place, and if you decide we're the one for you, simply go to our front office and we'll arrange you a diving trip of your life.
By Rojos / Raja Reo